Grounded in extensive research on positive youth development, CoVitality features the Social Emotional Health Surveys developed in collaboration with the Center for School-Based Youth Development at the University of California, Santa Barbara.
The CoVitality framework—featuring the Social-Emotional Health Surveys— is a comprehensive set of assessment tools and insights to help school mental health teams assess adolescents' personal and social strengths and assets, in addition to psychological distress and risk factors.
Unlike typical risk factor and behavioral health assessments that focus on the 15-20% of students with significant problems, the CoVitality framework helps school care coordination teams identify both the strengths and areas for growth of all students.
CoVitality is unique because it provides individual and school-wide data on every student's social emotional skill-set allowing schools to:
Demonstrate Program Impact
Implement Prevention Activities
Improve School Climate
Develop Targeted Individual Interventions
Evaluate Program Outcomes
Learn How CoVitality Works
Implementing the CoVitality framework is simple thanks to our intuitive web-based app. School mental health teams can use the app to administer surveys, monitor survey progress, and generate reports. Students complete surveys online using any connected device, and results are available in real-time as individual and aggregate reports. Data is always confidential and secure, and complies with HIPAA and FERPA standards.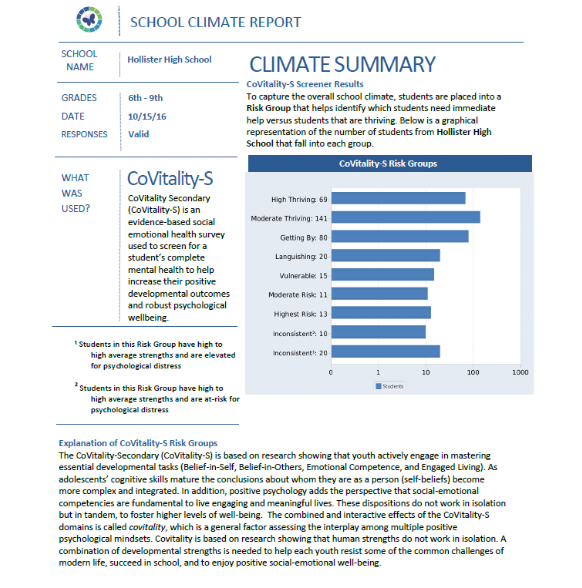 The CoVitality framework and Social-Emotional Health Surveys have been implemented and studied across the globe in 8 states, 15 countries and on 5 continents with translations in 12 languages. With this success, we are now updating our tools to continuously provide you with the most current solutions in student mental wellness. Contact us below to explore your exclusive benefits and immediate access to CoVitality.
See CoVitality for Yourself
Schedule a time for a personalized demo with our team or give us a call directly at (866)-575-9372